Wood Carving Tools
Wood carving is a form of woodworking by means of a cutting tool (knife) in one hand or a chisel by two hands or with one hand on a chisel and one hand on a mallet, resulting in a wooden figure or figurine, or in the sculptural ornamentation of a wooden object. The phrase may also refer to the finished product, from individual sculptures to hand-worked mouldings composing part of a tracery.
The making of sculpture in wood has been extremely widely practiced, but survives much less well than the other main materials such as stone and bronze, as it is vulnerable to decay, insect damage, and fire. It therefore forms an important hidden element in the art history of many cultures. Outdoor wood sculptures do not last long in most parts of the world, so it is still unknown how the totem pole tradition developed. Many of the most important sculptures of China and Japan in particular are in wood, and so are the great majority of African sculpture and that of Oceania and other regions. Wood is light and can take very fine detail so it is highly suitable for masks and other sculpture intended to be worn or carried. It is also much easier to work on than stone.
Some of the finest extant examples of early European wood carving are from the Middle Ages in Germany, Russia, Italy and France, where the typical themes of that era were Christian iconography. In England, many complete examples remain from the 16th and 17th century, where oak was the preferred medium.
Chip carving
Chip carving or chip-carving, kerbschnitt in German, is a style of carving in which knives or chisels are used to remove small chips of the material from a flat surface in a single piece. The style became important in Migration Period metalwork, mainly Animal style jewellery, where the faceted surfaces created caught the light to give a glinting appearance. This was very probably a transfer to metalworking of a technique already used in woodcarving, but no wooden examples have survived. Famous Anglo-Saxon examples include the jewellery from Sutton Hoo and the Tassilo Chalice, though the style originated in mainland Europe. In later British and Irish metalwork, the same style was imitated using casting, which is often called imitation chip-carving, or sometimes just chip carving (authors are not always careful to distinguish the two), a term also sometimes applied to pottery decorated in a similar way.
Woodwork
In modern wood carving, the style is also called spoon carving. The style is traditional in the folk art of many countries. Patterns can be free form style or based on geometric figures. In America it is mostly used with basswood, butternut, pine, or mahogany. Chip carving knives can also be used for whittling, cabinet making, and general workbench purposes.
Relief carving
Relief carving as a type of wood carving in which figures are carved in a flat panel of wood. The figures project only slightly from the background rather than standing freely. Depending on the degree of projection, reliefs may also be classified as high or medium relief.
Relief carving can be described as "carving pictures in wood". The process of relief carving involves removing wood from a flat wood panel in such a way that an object appears to rise out of the wood. Relief carving begins with a design idea, usually put to paper in the form of a master pattern which is then transferred to the wood surface. Most relief carving is done with hand tools – chisels and gouges – which often require a mallet to drive them through the wood.
As wood is removed from the panel around the objects traced onto it from the pattern, the objects themselves stand up from the background wood. Modeling of the objects can take place as soon as enough background has been removed and the object edges are trimmed to the pattern lines.
In order to secure the wood panel, a workbench with fixtures like bench-dogs, carver's screw or clamps, is necessary. Carving tools come in a wide variety of shapes and sizes, some aimed strictly at the hobbyist, but others directed at professional carvers. Some carving tools are held with one hand while the carving is held in the other. But most relief carving requires that the wood panel be secured so that both hands may be on the carving tool.
Much of the skill required for relief carving lies in learning to grip and manipulate tools to get the desired effect. Tool sharpening is also a necessary skill to learn, and dull tools are a severe obstacle to effective carving.
Scandinavian flat-plane style of woodcarving
The Scandinavian flat-plane style of woodcarving is a style of figure carving. The figures are carved in large flat planes, created primarily using a carving knife. Tool marks are left in the carving and very little (if any) rounding or sanding is done. Emil Janel, a Swedish-born American artist, was considered by many to be one of the best of this genre.
A common example of the style is the Dalecarlian horse, whose distinctive shape is due to this manner of carving.
Caricature
A caricature is a rendered image showing the features of its subject in a simplified or exaggerated way through sketching, pencil strokes or through other artistic drawings.
In literature, a caricature is a description of a person using exaggeration of some characteristics and oversimplification of others.
Caricatures can be insulting or complimentary and can serve a political purpose or be drawn solely for entertainment. Caricatures of politicians are commonly used in editorial cartoons, while caricatures of movie stars are often found in entertainment magazines.
The term is derived from the Italian caricare—to charge or load. An early definition occurs in the English doctor Thomas Browne's Christian Morals, published posthumously in 1716.
Expose not thy self by four-footed manners unto monstrous draughts, and Caricatura representations.
with the footnote:
When Men's faces are drawn with resemblance to some other Animals, the Italians call it, to be drawn in Caricatura
Thus, the word "caricature" essentially means a "loaded portrait". Until the mid 19th century, it was commonly and mistakenly believed that the term shared the same root as the French 'charcuterie', likely owing to Parisian street artists using cured meats in their satirical portrayal of public figures.
Lovespoon
A Lovespoon is a wooden spoon decoratively carved that was traditionally presented as a gift of romantic intent. The spoon is normally decorated with symbols of love, and was intended to reflect the skill of the carver. Due to the intricate designs, lovespoons are no longer used as functioning spoons and are now decorative craft items.
Treen (wooden)
Treen, literally "of a tree" is a generic name for small handmade functional household objects made of wood. Treen is distinct from furniture, such as chairs, and cabinetry, as well as clocks and cupboards. Before the late 17th-century, when silver, pewter, and ceramics were introduced for tableware, most small household items, boxes and tableware were carved from wood. Today, treen is highly collectable for its beautiful patina and tactile appeal.
Anything from wooden plates and bowls, snuff boxes and needle cases, spoons and stay busks to shoehorns and chopping boards can be classed as treen. Domestic and agricultural wooden tools are also usually classed with treen.
Before the advent of cheap metal wares in industrialized societies, and later plastic, wood played a much greater part as the raw material for common objects. Turning and carving were the key manufacturing techniques. The selection of wood species was important, and close-grained native hardwoods such as box, beech and sycamore were particularly favoured, with occasional use of exotics, such as lignum vitae for mallet heads.
Wooden objects have survived relatively less well than those of metal or stone, and their study by archaeologists and historians has been somewhat neglected until recently. Their strongly functional and undecorated forms have, however, been highly regarded by designers and collectors.
The scholarly study of treen was greatly advanced by Edward Pinto (1901–1972), who started collecting in his childhood and wrote a definitive book on the subject. In 1965, when Birmingham Museum & Art Gallery purchased his collection, it contained over 7,000 items.
Whittling
Whittling may refer either to the art of carving shapes out of raw wood using a knife or a time-occupying, non-artistic process of repeatedly shaving slivers from a piece of wood.
Uses for Carbide Burrs
Use carbide burrs in air tools such as die grinders, pneumatic rotary tools and high speed engravers. Micro Motors, Pendant Drills, Flexible Shafts, and hobby rotary tools such as a Dremel.
Carbide burrs are widely used for metalworking, tool making, engineering, model engineering, wood carving, jewelry making, welding, chamferring, casting, deburring, grinding, cylinder head porting and sculpting. Carbide burrs are used in the aerospace, automotive, dentistry, stone and metalsmith industries.
What cut should you choose?
Single cut (one flute) carbide burrs have a right handed (up cut) spiral flute. Single cut is used with stainless steel, hardened steel, copper, cast iron and ferrous metals and will remove material quickly with a smooth finish. Use for heavy stock removal, milling, deburring and cleaning.
Heavy removal of material
Milling
Deburring
Cleaning
Creates long chips
Use double cut carbide burrs on ferrous and non ferrous metals, aluminium, soft steel and also for all non-metal materials such as stone, plastics, hard wood and ceramic. This cut has more cutting edges and will remove material faster. Double cut also called Diamond Cut or Cross Cut (2 flutes cut across each other) and will leave a smoother finish than single cut due to producing smaller chips as they cut away the material. Use double cut for medium-light stock removal, deburring, finishing and cleaning. Double cut carbide burrs are most popular and work for most applications.
Medium- light removal of material
Deburring
Fine finishing
Cleaning
Smooth finish
Creates small chips
What RPM speed should you use?
The speed at which you use your carbide burr in your rotary tool will depend on the material you're using it on and the contour being produced but it's safe to say you do not need more than 35,000 RPM. If the burs are chipping easily this could be due to the speed being too slow. It's ideal to start the bur off slow, increasing the speed as you go along. High speeds will prevent clogging in the flutes of your carbide burs.
As with all drill bits and burrs, let the burr do the work and apply only a little pressure, otherwise the cutting edges of the flutes will chip away or become smooth too quickly, reducing the life of your burr.
Our carbide burrs we manufacture are machine ground from a specially chosen grade of carbide. Due to the extreme hardness of the tungsten carbide, they can be used on much more demanding jobs than HSS (High Speed Steel). Carbide Burrs also perform better at higher temperatures than HSS, so you can run them hotter, and for longer. HSS burrs will start to soften at higher temperatures, so carbide is always a better choice for long term performance.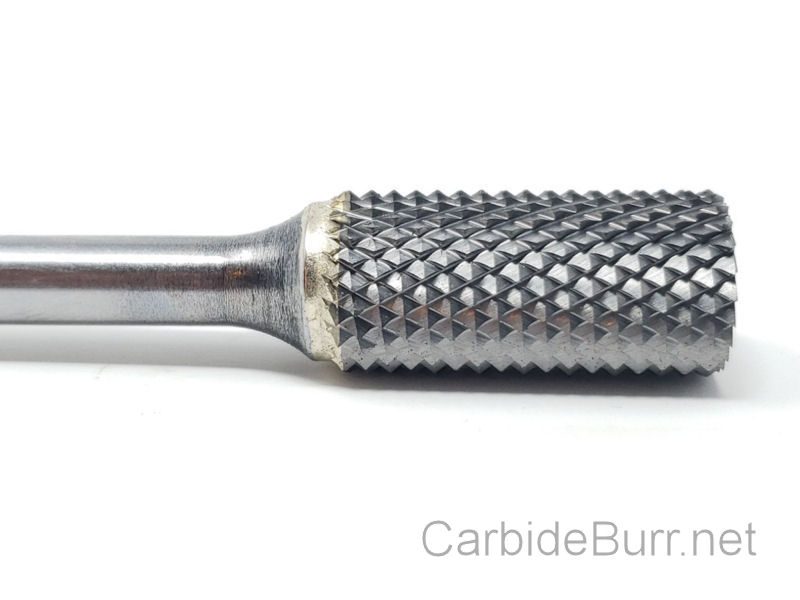 SA-1/2 DIAMOND Cut Carbide Burr
The most abrasive carbide tool we make!

Need a longer reach for your carbide tool bits?
Try our 4″ and 9″ long tool extensions on sale today!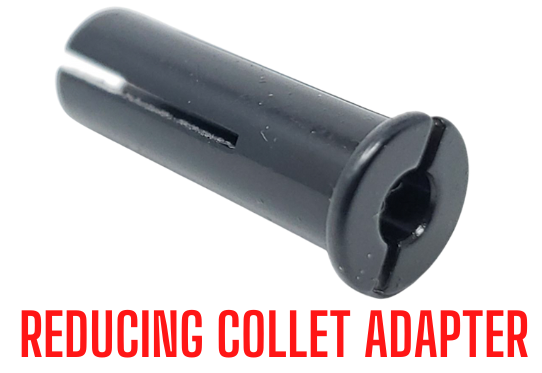 Did you know you can use your 1/8″ Dremel tool bits in your 1/4″ die grinder?
Just use our reducing collet adapter. On sale today!
Click here if you are interested in dropshipping our USA made carbide burr tools.

Follow Us On Social Media for Special Coupons
Facebook – Twitter – Instagram – Youtube
Carbide Burrs on 1/4″ Shanks – Solid Carbide Burrs – 1/4″ Carbide Burrs on 1/8″ Shanks – Long Shank Carbide Burrs – NF Carbide Burrs – Carbide Burr Sets – End Mills – Accessories
Order Tracking – Dropship Carbide Burr Tools – Contact Us – Cut Options – Coupon Codes – Posts