Metalsmith
A metalsmith or simply smith is a craftsman fashioning useful items (for example, tools, kitchenware, tableware, jewellery, and weapons) out of various metals.  Smithing is one of the oldest metalworking occupations. Shaping metal with a hammer (forging) is the archetypical component of smithing. Often the hammering is done while the metal is hot, having been heated in a forge. Smithing can also involve the other aspects of metalworking, such as refining metals from their ores (traditionally done by smelting), casting it into shapes (founding), and filing to shape and size.
The prevalence of metalworking in the culture of recent centuries has led Smith and its equivalents in various languages (German Schmidt, French Lefèvre, Spanish Herrero, Italian Fabbri, Ferrari, Ferrero etc.) to be a common occupational surname. As a suffix, -smith connotes a meaning of a specialized craftsman—for example, wordsmith and tunesmith are nouns synonymous with writer or songwriter, respectively.
History
In pre-industrialized times, smiths held high or special social standing since they supplied the metal tools needed for farming (especially the plough) and warfare. This was especially true in some West African cultures.
Types of smiths
A metalsmith is one who works with or has the knowledge and the capacity of working with "all" metals.
Types of smiths include:
An arrowsmith forges arrow heads for the fletcher (an arrow-maker)
A blacksmith works with iron and steel (this is what is usually meant when referring just to "smith")
A bladesmith forges knives, swords, and other blades
A brassfounder works with brass
A brownsmith works with brass and copper
A coinsmith works strictly with coins and currency
A coppersmith (also known as brownsmith) works with copper
A fendersmith makes and repairs the metal fender before fireplaces, protecting rugs and furniture in mansions and fine estates, and frequently cares for the fires as well
A goldsmith works with gold
A gunsmith builds and repairs firearms
A locksmith works with locks
A pewtersmith works with pewter
A scythesmith forges scythes
A silversmith, or brightsmith, works with silver
A swordsmith is a bladesmith who forges only swords
A tinsmith, tinner, or tinker works with light metal (such as tinware) and can refer to someone who deals in tinware
A weapon-smith forges weapons like axes, spears, flails, and other weapons
A whitesmith works with white metal (tin and pewter) and can refer to someone who polishes or finishes the metal rather than forging it
A zincsmith works, fabricates or builds with zinc in sheet or bar form
Artisans and craftpeople
"Aeolus's Weathervane." Detail of a weather vane created by using a variety of metalsmithing techniques
The ancient traditional tool of the smith is a forge or smithy, which is a furnace designed to allow compressed air (through a bellows) to superheat the inside, allowing for efficient melting, soldering and annealing of metals. Today, this tool is still widely used by blacksmiths as it was traditionally.
The term, metalsmith, often refers to artisans and craftpersons who practice their craft in many different metals, including gold, copper and silver. Jewelers often refer to their craft as metalsmithing, and many universities offer degree programs in metalsmithing, jewelry, enameling and blacksmithing under the auspices of their fine arts programs.
Machinists
Machinists are metalsmiths who produce high-precision parts and tools. The most advanced of these tools, CNC machines, are computer controlled and largely automated.
Uses for Carbide Burrs
Use carbide burrs in air tools such as die grinders, pneumatic rotary tools and high speed engravers. Micro Motors, Pendant Drills, Flexible Shafts, and hobby rotary tools such as a Dremel.
Carbide burrs are widely used for metalworking, tool making, engineering, model engineering, wood carving, jewelry making, welding, chamferring, casting, deburring, grinding, cylinder head porting and sculpting. Carbide burrs are used in the aerospace, automotive, dentistry, stone and metalsmith industries.
What cut should you choose?
Single cut (one flute) carbide burrs have a right handed (up cut) spiral flute. Single cut is used with stainless steel, hardened steel, copper, cast iron and ferrous metals and will remove material quickly with a smooth finish. Use for heavy stock removal, milling, deburring and cleaning.
Heavy removal of material
Milling
Deburring
Cleaning
Creates long chips
Use double cut carbide burrs on ferrous and non ferrous metals, aluminium, soft steel and also for all non-metal materials such as stone, plastics, hard wood and ceramic. This cut has more cutting edges and will remove material faster. Double cut also called Diamond Cut or Cross Cut (2 flutes cut across each other) and will leave a smoother finish than single cut due to producing smaller chips as they cut away the material. Use double cut for medium-light stock removal, deburring, finishing and cleaning. Double cut carbide burrs are most popular and work for most applications.
Medium- light removal of material
Deburring
Fine finishing
Cleaning
Smooth finish
Creates small chips
What RPM speed should you use?
The speed at which you use your carbide burr in your rotary tool will depend on the material you're using it on and the contour being produced but it's safe to say you do not need more than 35,000 RPM. If the burs are chipping easily this could be due to the speed being too slow. It's ideal to start the bur off slow, increasing the speed as you go along. High speeds will prevent clogging in the flutes of your carbide burs.
As with all drill bits and burrs, let the burr do the work and apply only a little pressure, otherwise the cutting edges of the flutes will chip away or become smooth too quickly, reducing the life of your burr.
Our carbide burrs we manufacture are machine ground from a specially chosen grade of carbide. Due to the extreme hardness of the tungsten carbide, they can be used on much more demanding jobs than HSS (High Speed Steel). Carbide Burrs also perform better at higher temperatures than HSS, so you can run them hotter, and for longer. HSS burrs will start to soften at higher temperatures, so carbide is always a better choice for long term performance.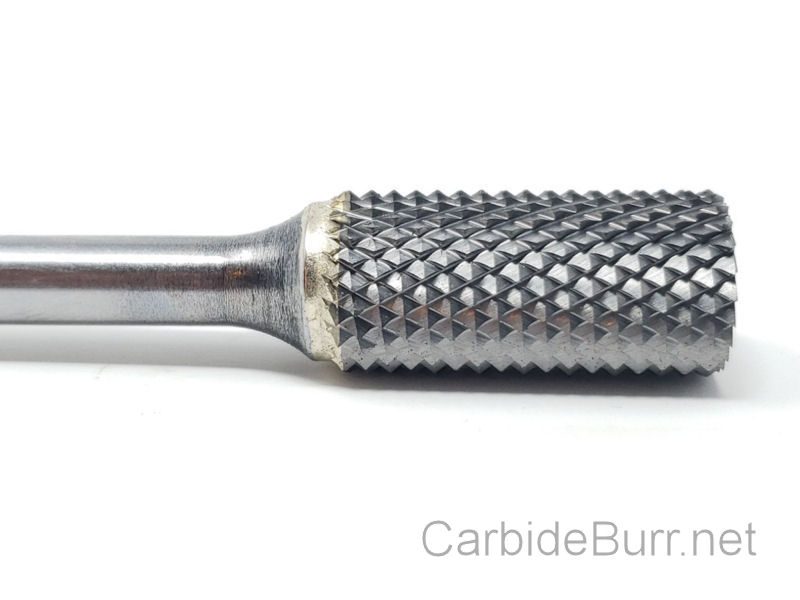 SA-1/2 DIAMOND Cut Carbide Burr
The most abrasive carbide tool we make!

Need a longer reach for your carbide tool bits?
Try our 4″ and 9″ long tool extensions on sale today!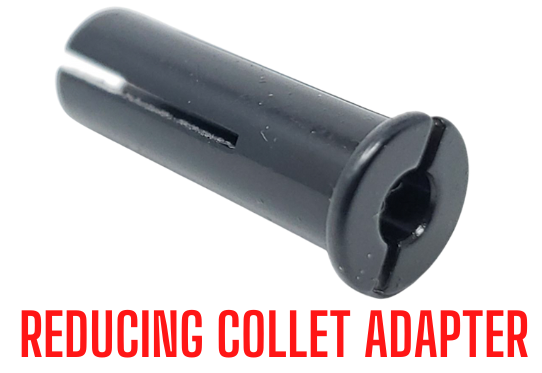 Did you know you can use your 1/8″ Dremel tool bits in your 1/4″ die grinder?
Just use our reducing collet adapter. On sale today!
Click here if you are interested in dropshipping our USA made carbide burr tools.

Follow Us On Social Media for Special Coupons
Facebook – Twitter – Instagram – Youtube
Carbide Burrs on 1/4″ Shanks – Solid Carbide Burrs – 1/4″ Carbide Burrs on 1/8″ Shanks – Long Shank Carbide Burrs – NF Carbide Burrs – Carbide Burr Sets – End Mills – Accessories
Order Tracking – Dropship Carbide Burr Tools – Contact Us – Cut Options – Coupon Codes – Posts