Chamfer
A chamfer is a transitional edge between two faces of an object. It can also be known as a bevel but connotes more often cutting and is more often 45° with respect to the two adjoining faces. If the un-chamfered intersection of the adjoining faces would otherwise form a right angle, 90° as is most common, the chamfer will typically be uniform and pitched at 45° . A fully chamfered square interior would thus be octagonal. (By contrast, a fillet is the rounding-off of an interior corner, and a rounding of an exterior corner is called a "round" or a "radius")
"Chamfer" is a term commonly used in mechanical and manufacturing engineering. Special tools such as chamfer mills and chamfer planes are available. In tile work, or furniture such as counters or table tops, an edge or arris that has been eased by rounding instead of chamfering is called a bullnose. Where a chamfer does not go to the end of the piece, but "lifts out" in a smooth curve, the end is called a lark's tongue.
In non-aesthetic uses, chamfers are necessary in parabolic glass mirror manufacture and desirable in certain printed circuit boards.
Architecture
In architecture, the base of the Taj Mahal is a cube with chamfered corners, thereby creating an octagonal architectural footprint. Its great gate is formed of chamfered base stones and chamfered corbels for a balcony or equivalent cornice towards the roof.
Many street corners (curbs) in Barcelona, Spain, and in Ponce, Puerto Rico, are chamfered. This allows for the turn while driving to be somewhat more comfortable as drivers do not need to slow down as much when making a turn as they would have to if the corner were a square 90 degrees. It also reduces the likelihood of tire damage.
In parabolic glass mirror design
Outside of aesthetics, chamfering is part of the process of hand-crafting a parabolic glass telescope mirror. Before the surface of the disc can be ground, the edges must first be chamfered to prevent chipping. This can be accomplished by placing the disc in a metal bowl containing silicon carbide and rotating the disc with a rocking motion. The grit will thus wear off the sharp edge of the glass.
In printed circuit board (PCB) design
In printed circuit board (PCB) designing, a chamfer occurs when a right-angled edge is eliminated from the tracks, to strengthen the places where a track meets another at a right angle. It also reduces reflections, which is important for high-frequency design.
Uses for Carbide Burrs
Use carbide burrs in air tools such as die grinders, pneumatic rotary tools and high speed engravers. Micro Motors, Pendant Drills, Flexible Shafts, and hobby rotary tools such as a Dremel.
Carbide burrs are widely used for metalworking, tool making, engineering, model engineering, wood carving, jewelry making, welding, chamferring, casting, deburring, grinding, cylinder head porting and sculpting. Carbide burrs are used in the aerospace, automotive, dentistry, stone and metalsmith industries.
What cut should you choose?
Single cut (one flute) carbide burrs have a right handed (up cut) spiral flute. Single cut is used with stainless steel, hardened steel, copper, cast iron and ferrous metals and will remove material quickly with a smooth finish. Use for heavy stock removal, milling, deburring and cleaning.
Heavy removal of material
Milling
Deburring
Cleaning
Creates long chips
Use double cut carbide burrs on ferrous and non ferrous metals, aluminium, soft steel and also for all non-metal materials such as stone, plastics, hard wood and ceramic. This cut has more cutting edges and will remove material faster. Double cut also called Diamond Cut or Cross Cut (2 flutes cut across each other) and will leave a smoother finish than single cut due to producing smaller chips as they cut away the material. Use double cut for medium-light stock removal, deburring, finishing and cleaning. Double cut carbide burrs are most popular and work for most applications.
Medium- light removal of material
Deburring
Fine finishing
Cleaning
Smooth finish
Creates small chips
What RPM speed should you use?
The speed at which you use your carbide burr in your rotary tool will depend on the material you're using it on and the contour being produced but it's safe to say you do not need more than 35,000 RPM. If the burs are chipping easily this could be due to the speed being too slow. It's ideal to start the bur off slow, increasing the speed as you go along. High speeds will prevent clogging in the flutes of your carbide burs.
As with all drill bits and burrs, let the burr do the work and apply only a little pressure, otherwise the cutting edges of the flutes will chip away or become smooth too quickly, reducing the life of your burr.
Our carbide burrs we manufacture are machine ground from a specially chosen grade of carbide. Due to the extreme hardness of the tungsten carbide, they can be used on much more demanding jobs than HSS (High Speed Steel). Carbide Burrs also perform better at higher temperatures than HSS, so you can run them hotter, and for longer. HSS burrs will start to soften at higher temperatures, so carbide is always a better choice for long term performance.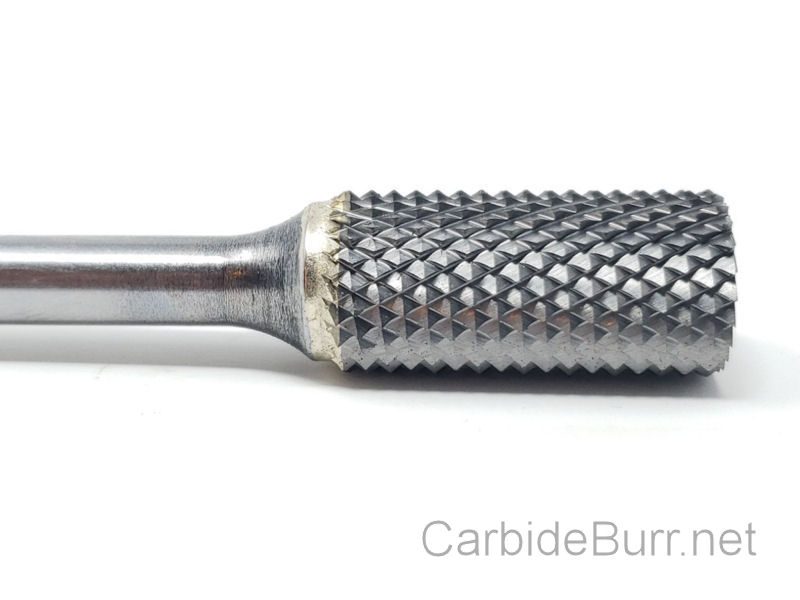 SA-1/2 DIAMOND Cut Carbide Burr
The most abrasive carbide tool we make!

Need a longer reach for your carbide tool bits?
Try our 4″ and 9″ long tool extensions on sale today!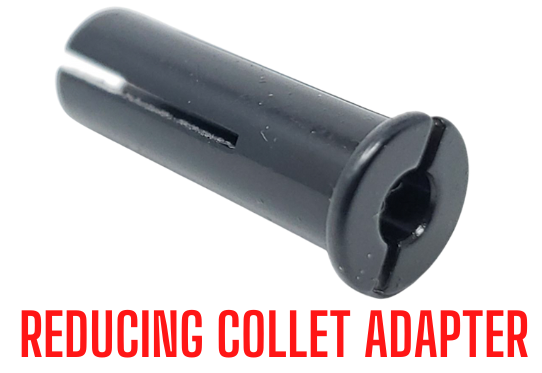 Did you know you can use your 1/8″ Dremel tool bits in your 1/4″ die grinder?
Just use our reducing collet adapter. On sale today!
Click here if you are interested in dropshipping our USA made carbide burr tools.

Follow Us On Social Media for Special Coupons
Facebook – Twitter – Instagram – Youtube
Carbide Burrs on 1/4″ Shanks – Solid Carbide Burrs – 1/4″ Carbide Burrs on 1/8″ Shanks – Long Shank Carbide Burrs – NF Carbide Burrs – Carbide Burr Sets – End Mills – Accessories
Order Tracking – Dropship Carbide Burr Tools – Contact Us – Cut Options – Coupon Codes – Posts