Automotive Industry
The automotive industry is a wide range of companies and organizations involved in the design, development, manufacturing, marketing, and selling of motor vehicles, some of then are called automakers. It is one of the world's most important economic sectors by revenue. The automotive industry does not include industries dedicated to the maintenance of automobiles following delivery to the end-user, such as automobile repair shops and motor fuel filling stations.
The term automotive was created from Greek autos (self), and Latin motivus (of motion) to represent any form of self-powered vehicle. This term was proposed by SAE member Elmer Sperry.
History
The automotive industry began in the 1890s with hundreds of manufacturers that pioneered the horseless carriage. For many decades, the United States led the world in total automobile production. In 1929 before the Great Depression, the world had 32,028,500 automobiles in use, and the U.S. automobile industry produced over 90% of them. At that time the U.S. had one car per 4.87 persons. After World War II, the U.S. produced about 75 percent of world's auto production. In 1980, the U.S. was overtaken by Japan and became world's leader again in 1994. In 2006, Japan narrowly passed the U.S. in production and held this rank until 2009, when China took the top spot with 13.8 million units. With 19.3 million units manufactured in 2012, China almost doubled the U.S. production, with 10.3 million units, while Japan was in third place with 9.9 million units. From 1970 (140 models) over 1998 (260 models) to 2012 (684 models), the number of automobile models in the U.S. has grown exponentially.
Safety
Safety is a state that implies to be protected from any risk, danger, damage or cause of injury. In the automotive industry, safety means that users, operators or manufacturers do not face any risk or danger coming from the motor vehicle or its spare parts. Safety for the automobiles themselves, implies that there is no risk of damage.
Safety in the automotive industry is particularly important and therefore highly regulated. Automobiles and other motor vehicles have to comply with a certain number of norms and regulations, whether local or international, in order to be accepted on the market. The standard ISO 26262, is considered as one of the best practice framework for achieving automotive functional safety.
In case of safety issues, danger, product defect or faulty procedure during the manufacturing of the motor vehicle, the maker can request to return either a batch or the entire production run. This procedure is called product recall. Product recalls happen in every industry and can be production-related or stem from the raw material.
Product and operation tests and inspections at different stages of the value chain are made to avoid these product recalls by ensuring end-user security and safety and compliance with the automotive industry requirements. However, the automotive industry is still particularly concerned about product recalls, which cause considerable financial consequences.
Economy
Around the world, there were about 806 million cars and light trucks on the road in 2007, consuming over 980 billion litres (980,000,000 m3) of gasoline and diesel fuel yearly. The automobile is a primary mode of transportation for many developed economies. The Detroit branch of Boston Consulting Group predicts that, by 2014, one-third of world demand will be in the four BRIC markets (Brazil, Russia, India and China). Meanwhile, in the developed countries, the automotive industry has slowed down. It is also expected that this trend will continue, especially as the younger generations of people (in highly urbanized countries) no longer want to own a car anymore, and prefer other modes of transport. Other potentially powerful automotive markets are Iran and Indonesia. Emerging auto markets already buy more cars than established markets. According to a J.D. Power study, emerging markets accounted for 51 percent of the global light-vehicle sales in 2010. The study, performed in 2010 expected this trend to accelerate. However, more recent reports (2012) confirmed the opposite; namely that the automotive industry was slowing down even in BRIC countries. In the United States, vehicle sales peaked in 2000, at 17.8 million units.
Uses for Carbide Burrs
Use carbide burrs in air tools such as die grinders, pneumatic rotary tools and high speed engravers. Micro Motors, Pendant Drills, Flexible Shafts, and hobby rotary tools such as a Dremel.
Carbide burrs are widely used for metalworking, tool making, engineering, model engineering, wood carving, jewelry making, welding, chamferring, casting, deburring, grinding, cylinder head porting and sculpting. Carbide burrs are used in the aerospace, automotive, dentistry, stone and metalsmith industries.
What cut should you choose?
Single cut (one flute) carbide burrs have a right handed (up cut) spiral flute. Single cut is used with stainless steel, hardened steel, copper, cast iron and ferrous metals and will remove material quickly with a smooth finish. Use for heavy stock removal, milling, deburring and cleaning.
Heavy removal of material
Milling
Deburring
Cleaning
Creates long chips
Use double cut carbide burrs on ferrous and non ferrous metals, aluminium, soft steel and also for all non-metal materials such as stone, plastics, hard wood and ceramic. This cut has more cutting edges and will remove material faster. Double cut also called Diamond Cut or Cross Cut (2 flutes cut across each other) and will leave a smoother finish than single cut due to producing smaller chips as they cut away the material. Use double cut for medium-light stock removal, deburring, finishing and cleaning. Double cut carbide burrs are most popular and work for most applications.
Medium- light removal of material
Deburring
Fine finishing
Cleaning
Smooth finish
Creates small chips
What RPM speed should you use?
The speed at which you use your carbide burr in your rotary tool will depend on the material you're using it on and the contour being produced but it's safe to say you do not need more than 35,000 RPM. If the burs are chipping easily this could be due to the speed being too slow. It's ideal to start the bur off slow, increasing the speed as you go along. High speeds will prevent clogging in the flutes of your carbide burs.
As with all drill bits and burrs, let the burr do the work and apply only a little pressure, otherwise the cutting edges of the flutes will chip away or become smooth too quickly, reducing the life of your burr.
Our carbide burrs we manufacture are machine ground from a specially chosen grade of carbide. Due to the extreme hardness of the tungsten carbide, they can be used on much more demanding jobs than HSS (High Speed Steel). Carbide Burrs also perform better at higher temperatures than HSS, so you can run them hotter, and for longer. HSS burrs will start to soften at higher temperatures, so carbide is always a better choice for long term performance.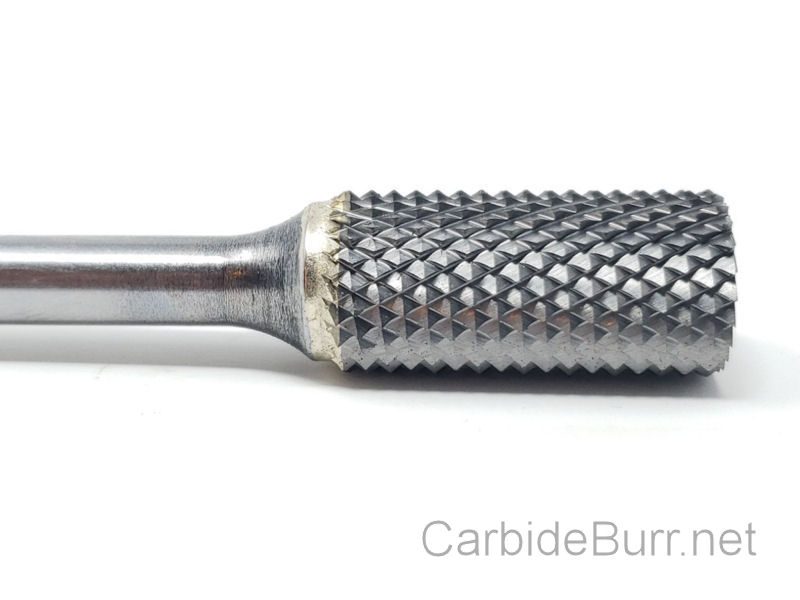 SA-1/2 DIAMOND Cut Carbide Burr
The most abrasive carbide tool we make!

Need a longer reach for your carbide tool bits?
Try our 4″ and 9″ long tool extensions on sale today!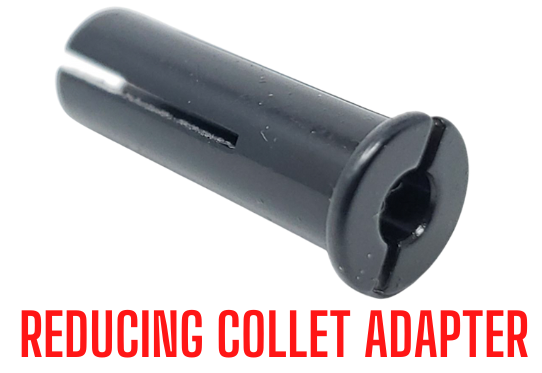 Did you know you can use your 1/8″ Dremel tool bits in your 1/4″ die grinder?
Just use our reducing collet adapter. On sale today!
Click here if you are interested in dropshipping our USA made carbide burr tools.

Follow Us On Social Media for Special Coupons
Facebook – Twitter – Instagram – Youtube
Carbide Burrs on 1/4″ Shanks – Solid Carbide Burrs – 1/4″ Carbide Burrs on 1/8″ Shanks – Long Shank Carbide Burrs – NF Carbide Burrs – Carbide Burr Sets – End Mills – Accessories
Order Tracking – Dropship Carbide Burr Tools – Contact Us – Cut Options – Coupon Codes – Posts