4th of July Carbide Burr Sale
4th of July carbide burr sale this week only!  Use coupon code "FACEBOOK" to get 10% off your tool purchase!
Our carbide burr die grinder bit is currently in stock. Our tungsten carbide burr cutting tools and long shank solid carbide burrs manufactured right here in the USA.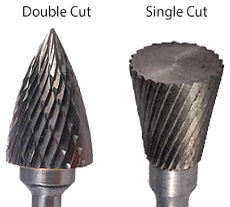 Single or Double Cut?
Single Cut
Usually used with stainless steel, hardened steel, copper, cast iron, and ferrous metals and will remove material quickly. Use for heavy stock removal, milling, deburring and cleaning.
Designed for heavy removal of material, milling, deburring, cleaning, and creating long chips.
Double Cut
Used on ferrous and non ferrous metals, aluminium, soft steel and also for all non-metal materials such as stone, plastics, hard wood and ceramic. They have more cutting edges and will remove material much faster. Double cut will leave a smoother finish than single cut due to producing smaller chips as they cut away the material. Use for medium-light stock removal, deburring, finishing and cleaning.
Designed for medium- light removal of material, deburring, fine finishing, cleaning, smooth finish, and creating small chips.
Uses for Carbide Burrs
Carbide burrs are widely used in metalworking, tool making, engineering, model engineering, wood carving, jewelry making, welding, chamferring, casting, deburring, grinding, cylinder head porting and sculpting. Carbide burrs can be used in the aerospace, automotive, dentistry, stone and metalsmith industries.
Suggested RPM Speeds
The speed that you use your carbide burr in your rotary tool will depend on the material you're using it on and the shape being produced, but typically you do not need more than 35,000 RPM. If the burrs are chipping easily, this could be due to the speed being too slow. We suggest starting the burr off slow, and increasing the speed as you go along. High speeds will prevent clogging in the flutes of your carbide burrs.
As with all drill bits and burrs, let the burr do the work and apply light pressure, otherwise the cutting edges of the flutes will chip away or become smooth too quickly, reducing the life of your carbide burr.
Our carbide burrs we manufacture here in the USA are machine ground from a specially chosen grade of carbide. Due to the extreme hardness of the tungsten carbide, they can be used on much more demanding jobs than HSS (High Speed Steel). Carbide Burs also perform better at higher temperatures than HSS, so you can run them hotter, and for longer. HSS burrs will start to soften at higher temperatures, so carbide is always the best choice for long term performance.
Click here if you are interested in dropshipping the SG-3L6 Long Shank Solid Carbide Burr Die Grinder Bit, or any of our tungsten carbide burr die grinder bits made here in the USA.