Stone Sculpture
Stone sculpture is the result of forming 3-dimensional visually interesting objects from stone. It is an ancient activity where pieces of rough natural stone are shaped by the controlled removal of stone. Owing to the permanence of the material, evidence can be found that even the earliest societies indulged in some form of stone work, though not all areas of the world have such abundance of good stone for carving as Egypt, Greece, India and most of Europe. Petroglyphs (also called rock engravings) are perhaps the earliest form: images created by removing part of a rock surface which remains in situ, by incising, pecking, carving, and abrading. Monumental sculpture covers large works, and architectural sculpture, which is attached to buildings. Hardstone carving is the carving for artistic purposes of semi-precious stones such as jade, agate, onyx, rock crystal, sard or carnelian, and a general term for an object made in this way. Alabaster or mineral gypsum is a soft mineral that is easy to carve for smaller works and still relatively durable. Engraved gems are small carved gems, including cameos, originally used as seal rings.
Carving stone into sculpture is an activity older than civilization itself, beginning perhaps with incised images on cave walls. Prehistoric sculptures were usually human forms, such as the Venus of Willendorf and the faceless statues of the Cycladic cultures of ancient Greece. Later cultures devised animal, human-animal and abstract forms in stone. The earliest cultures used abrasive techniques, and modern technology employs pneumatic hammers and other devices. But for most of human history, sculptors used hammer and chisel as the basic tools for carving stone.
The process of stone sculpture
In the direct method of stone carving, the work usually begins with the selection of a stone for carving, the qualities of which will influence the artist's choices in the design process. The artist using the direct method may use sketches but eschews the use of a physical model. The fully dimensional form or figure is created for the first time in the stone itself, as the artist removes material, sketches on the block of stone, and develops the work along the way.
On the other hand, is the indirect method, when the sculptor begins with a clearly defined model to be copied in stone. The models, usually made of plaster or modeling clay, may be fully the size of the intended sculpture and fully detailed. Once the model is complete, a suitable stone must be found to fit the intended design. The model is then copied in stone by measuring with calipers or a pointing machine. This method is frequently used when the carving is done by other sculptors, such as artisans or employees of the sculptor.
Some artists use the stone itself as inspiration; the Renaissance artist Michelangelo claimed that his job was to free the human form hidden inside the block.
Roughing out
When he or she is ready to carve, the carver usually begins by knocking off, or "pitching", large portions of unwanted stone. For this task he may select a point chisel, which is a long, hefty piece of steel with a point at one end and a broad striking surface at the other. A pitching tool may also be used at this early stage; which is a wedge-shaped chisel with a broad, flat edge. The pitching tool is useful for splitting the stone and removing large, unwanted chunks. The sculptor also selects a mallet, which is often a hammer with a broad, barrel-shaped head. The carver places the point of the chisel or the edge of the pitching tool against a selected part of the stone, then swings the mallet at it with a controlled stroke. He must be careful to strike the end of the tool accurately; the smallest miscalculation can damage the stone, not to mention the sculptor's hand. When the mallet connects to the tool, energy is transferred along the tool, shattering the stone. Most sculptors work rhythmically, turning the tool with each blow so that the stone is removed quickly and evenly. This is the "roughing out" stage of the sculpting process.
Refining
Once the general shape of the statue has been determined, the sculptor uses other tools to refine the figure. A toothed chisel or claw chisel has multiple gouging surfaces which create parallel lines in the stone. These tools are generally used to add texture to the figure. An artist might mark out specific lines by using calipers to measure an area of stone to be addressed, and marking the removal area with pencil, charcoal or chalk. The stone carver generally uses a shallower stroke at this point in the process.
Final stages
Eventually the sculptor has changed the stone from a rough block into the general shape of the finished statue. Tools called rasps and rifflers are then used to enhance the shape into its final form. A rasp is a flat, steel tool with a coarse surface. The sculptor uses broad, sweeping strokes to remove excess stone as small chips or dust. A riffler is a smaller variation of the rasp, which can be used to create details such as folds of clothing or locks of hair.
The final stage of the carving process is polishing. Sandpaper can be used as a first step in the polishing process, or sand cloth. Emery, a stone that is harder and rougher than the sculpture media, is also used in the finishing process. This abrading, or wearing away, brings out the color of the stone, reveals patterns in the surface and adds a sheen. Tin and iron oxides are often used to give the stone a highly reflective exterior.Today, modern stone sculptors use diamond abrasives to sand in the final finishing processes. This can be achieved by hand pads in rough to fine abrasives ranging from 36 grit to 3000 grit. Also diamond pads mounted on water cooled rotary air or electric sanders speed the finishing process.
Copying by "pointing"
The copying of an original statue in stone, which was very important for Ancient Greek statues, which are nearly all known from copies, was traditionally achieved by "pointing", along with more freehand methods. Pointing involved setting up a grid of string squares on a wooden frame surrounding the original, and then measuring the position on the grid and the distance between grid and statue of a series of individual points, and then using this information to carve into the block from which the copy is made. Robert Manuel Cook notes that Ancient Greek copyists seem to have used many fewer points than some later ones, and copies often vary considerably in the composition as well as the finish.
Types of stone used in carving
Soapstone, with a Mohs hardness of about 2, is an easily worked stone, commonly used by beginning students of stone carving.
Alabaster and softer kinds of serpentine, all about 3 on the Mohs scale, are more durable than soapstone. Alabaster, in particular, has long been cherished for its translucence.
Limestone and sandstone, at about 4 on the Mohs scale, are the only sedimentary stones commonly carved. Limestone comes in a popular oolitic variety, about twice as hard as alabaster, that is excellent for carving. The harder serpentines can also reach 4 on the Mohs scale.
Marble, travertine, and onyx are at about 6 on the Mohs scale. Marble has been the preferred stone for sculptors in the European tradition ever since the time of classical Greece. It is available in a wide variety of colors, from white through pink and red to grey and black.
The hardest stone frequently carved is granite, at about 8 on the Mohs scale. It is the most durable of sculptural stones and, correspondingly, an extremely difficult stone to work.
Basalt columns, being even harder than the granite, are less frequently carved. This stone takes on a beautiful black appearance when polished.
Uses for Carbide Burrs
Use carbide burrs in air tools such as die grinders, pneumatic rotary tools and high speed engravers. Micro Motors, Pendant Drills, Flexible Shafts, and hobby rotary tools such as a Dremel.
Carbide burrs are widely used for metalworking, tool making, engineering, model engineering, wood carving, jewelry making, welding, chamferring, casting, deburring, grinding, cylinder head porting and sculpting. Carbide burrs are used in the aerospace, automotive, dentistry, stone and metalsmith industries.
What cut should you choose?
Single cut (one flute) carbide burrs have a right handed (up cut) spiral flute. Single cut is used with stainless steel, hardened steel, copper, cast iron and ferrous metals and will remove material quickly with a smooth finish. Use for heavy stock removal, milling, deburring and cleaning.
Heavy removal of material
Milling
Deburring
Cleaning
Creates long chips
Use double cut carbide burrs on ferrous and non ferrous metals, aluminium, soft steel and also for all non-metal materials such as stone, plastics, hard wood and ceramic. This cut has more cutting edges and will remove material faster. Double cut also called Diamond Cut or Cross Cut (2 flutes cut across each other) and will leave a smoother finish than single cut due to producing smaller chips as they cut away the material. Use double cut for medium-light stock removal, deburring, finishing and cleaning. Double cut carbide burrs are most popular and work for most applications.
Medium- light removal of material
Deburring
Fine finishing
Cleaning
Smooth finish
Creates small chips
What RPM speed should you use?
The speed at which you use your carbide burr in your rotary tool will depend on the material you're using it on and the contour being produced but it's safe to say you do not need more than 35,000 RPM. If the burs are chipping easily this could be due to the speed being too slow. It's ideal to start the bur off slow, increasing the speed as you go along. High speeds will prevent clogging in the flutes of your carbide burs.
As with all drill bits and burrs, let the burr do the work and apply only a little pressure, otherwise the cutting edges of the flutes will chip away or become smooth too quickly, reducing the life of your burr.
Our carbide burrs we manufacture are machine ground from a specially chosen grade of carbide. Due to the extreme hardness of the tungsten carbide, they can be used on much more demanding jobs than HSS (High Speed Steel). Carbide Burrs also perform better at higher temperatures than HSS, so you can run them hotter, and for longer. HSS burrs will start to soften at higher temperatures, so carbide is always a better choice for long term performance.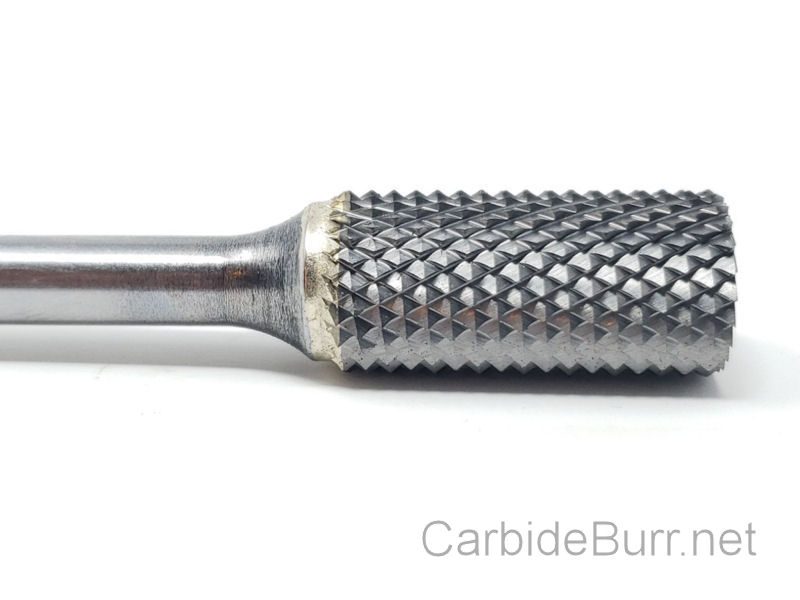 SA-1/2 DIAMOND Cut Carbide Burr
The most abrasive carbide tool we make!

Need a longer reach for your carbide tool bits?
Try our 4″ and 9″ long tool extensions on sale today!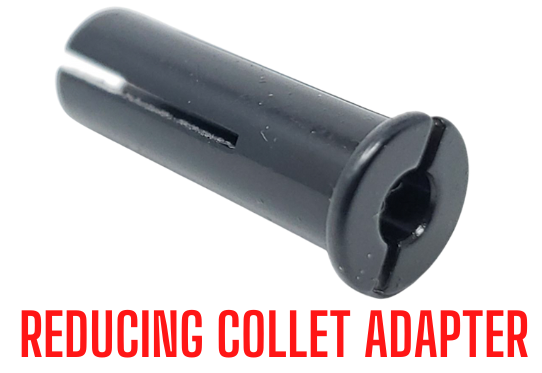 Did you know you can use your 1/8″ Dremel tool bits in your 1/4″ die grinder?
Just use our reducing collet adapter. On sale today!
Click here if you are interested in dropshipping our USA made carbide burr tools.

Follow Us On Social Media for Special Coupons
Facebook – Twitter – Instagram – Youtube
Carbide Burrs on 1/4″ Shanks – Solid Carbide Burrs – 1/4″ Carbide Burrs on 1/8″ Shanks – Long Shank Carbide Burrs – NF Carbide Burrs – Carbide Burr Sets – End Mills – Accessories
Order Tracking – Dropship Carbide Burr Tools – Contact Us – Cut Options – Coupon Codes – Posts