Metalworking Carbide Burr Tools
Metalworking is the process of working with metals to create individual parts, assemblies, or large-scale structures. The term covers a wide range of work from large ships and bridges to precise engine parts and delicate jewelry. It therefore includes a correspondingly wide range of skills, processes, and tools.
Metalworking is a science, art, hobby, industry and trade. Its historical roots span cultures, civilizations, and millennia. Metalworking has evolved from the discovery of smelting various ores, producing malleable and ductile metal useful for tools and adornments. Modern metalworking processes, though diverse and specialized, can be categorized as forming, cutting, or joining processes. Today's machine shop includes a number of machine tools capable of creating a precise, useful workpiece.
Prehistory
The oldest archaeological evidence of copper mining and working was the discovery of a copper pendant in northern Iraq from 8,700 BCE. The earliest substantiated and dated evidence of metalworking in the Americas was the processing of copper in Wisconsin, near Lake Michigan. Copper was hammered until brittle then heated so it could be worked some more. This technology is dated to about 4000-5000 BCE. The oldest gold artifacts in the world come from the Bulgarian Varna Necropolis and date from 4450 BCE.
Not all metal required fire to obtain it or work it. Isaac Asimov speculated that gold was the "first metal." His reasoning is that by its chemistry it is found in nature as nuggets of pure gold. In other words, gold, as rare as it is, is sometimes found in nature as the metal that it is. There are a few other metals that sometimes occur natively, and as a result of meteors. Almost all other metals are found in ores, a mineral-bearing rock, that require heat or some other process to liberate the metal. Another feature of gold is that it is workable as it is found, meaning that no technology beyond a stone hammer and anvil to work the metal is needed. This is a result of gold's properties of malleability and ductility. The earliest tools were stone, bone, wood, and sinew, all of which sufficed to work gold.
At some unknown point the connection between heat and the liberation of metals from rock became clear, rocks rich in copper, tin, and lead came into demand. These ores were mined wherever they were recognized. Remnants of such ancient mines have been found all over Southwestern Asia. Metalworking was being carried out by the South Asian inhabitants of Mehrgarh between 7000–3300 BCE. The end of the beginning of metalworking occurs sometime around 6000 BCE when copper smelting became common in Southwestern Asia.
History
A turret lathe operator machining parts for transport planes at the Consolidated Aircraft Corporation plant, Fort Worth, Texas, USA in the 1940s
By the historical periods of the Pharaohs in Egypt, the Vedic Kings in India, the Tribes of Israel, and the Maya civilization in North America, among other ancient populations, precious metals began to have value attached to them. In some cases rules for ownership, distribution, and trade were created, enforced, and agreed upon by the respective peoples. By the above periods metalworkers were very skilled at creating objects of adornment, religious artifacts, and trade instruments of precious metals (non-ferrous), as well as weaponry usually of ferrous metals and/or alloys. These skills were finely honed and well executed. The techniques were practiced by artisans, blacksmiths, atharvavedic practitioners, alchemists, and other categories of metalworkers around the globe. For example, the ancient technique of granulation is found around the world in numerous ancient cultures before the historic record shows people traveled to far regions to share this process that is still being used by metalsmiths today.
As time progressed metal objects became more common, and ever more complex. The need to further acquire and work metals grew in importance. Skills related to extracting metal ores from the earth began to evolve, and metalsmiths became more knowledgeable. Metalsmiths became important members of society. Fates and economies of entire civilizations were greatly affected by the availability of metals and metalsmiths. The metalworker depends on the extraction of precious metals to make jewelry, build more efficient electronics, and for industrial and technological applications from construction to shipping containers to rail, and air transport. Without metals, goods and services would cease to move around the globe on the scale we know today.
General metalworking processes
A combination square used for transferring designs.
A caliper is used to precisely measure a short length.
Metalworking generally is divided into the following categories, forming, cutting, and, joining. Each of these categories contain various processes.
Prior to most operations, the metal must be marked out and/or measured, depending on the desired finished product.
Marking out (also known as layout) is the process of transferring a design or pattern to a workpiece and is the first step in the handcraft of metalworking. It is performed in many industries or hobbies, although in industry, the repetition eliminates the need to mark out every individual piece. In the metal trades area, marking out consists of transferring the engineer's plan to the workpiece in preparation for the next step, machining or manufacture.
Calipers are hand tools designed to precisely measure the distance between two points. Most calipers have two sets of flat, parallel edges used for inner or outer diameter measurements. These calipers can be accurate to within one-thousandth of an inch (25.4 μm). Different types of calipers have different mechanisms for displaying the distance measured. Where larger objects need to be measured with less precision, a tape measure is often used.
Cutting processes
A CNC plasma cutting machining
Cutting is a collection of processes wherein material is brought to a specified geometry by removing excess material using various kinds of tooling to leave a finished part that meets specifications. The net result of cutting is two products, the waste or excess material, and the finished part. In woodworking, the waste would be sawdust and excess wood. In cutting metals the waste is chips or swarf and excess metal.
Uses for Carbide Burrs
Use carbide burrs in air tools such as die grinders, pneumatic rotary tools and high speed engravers. Micro Motors, Pendant Drills, Flexible Shafts, and hobby rotary tools such as a Dremel.
Carbide burrs are widely used for metalworking, tool making, engineering, model engineering, wood carving, jewelry making, welding, chamferring, casting, deburring, grinding, cylinder head porting and sculpting. Carbide burrs are used in the aerospace, automotive, dentistry, stone and metalsmith industries.
What cut should you choose?
Single cut (one flute) carbide burrs have a right handed (up cut) spiral flute. Single cut is used with stainless steel, hardened steel, copper, cast iron and ferrous metals and will remove material quickly with a smooth finish. Use for heavy stock removal, milling, deburring and cleaning.
Heavy removal of material
Milling
Deburring
Cleaning
Creates long chips
Use double cut carbide burrs on ferrous and non ferrous metals, aluminium, soft steel and also for all non-metal materials such as stone, plastics, hard wood and ceramic. This cut has more cutting edges and will remove material faster. Double cut also called Diamond Cut or Cross Cut (2 flutes cut across each other) and will leave a smoother finish than single cut due to producing smaller chips as they cut away the material. Use double cut for medium-light stock removal, deburring, finishing and cleaning. Double cut carbide burrs are most popular and work for most applications.
Medium- light removal of material
Deburring
Fine finishing
Cleaning
Smooth finish
Creates small chips
What RPM speed should you use?
The speed at which you use your carbide burr in your rotary tool will depend on the material you're using it on and the contour being produced but it's safe to say you do not need more than 35,000 RPM. If the burs are chipping easily this could be due to the speed being too slow. It's ideal to start the bur off slow, increasing the speed as you go along. High speeds will prevent clogging in the flutes of your carbide burs.
As with all drill bits and burrs, let the burr do the work and apply only a little pressure, otherwise the cutting edges of the flutes will chip away or become smooth too quickly, reducing the life of your burr.
Our carbide burrs we manufacture are machine ground from a specially chosen grade of carbide. Due to the extreme hardness of the tungsten carbide, they can be used on much more demanding jobs than HSS (High Speed Steel). Carbide Burrs also perform better at higher temperatures than HSS, so you can run them hotter, and for longer. HSS burrs will start to soften at higher temperatures, so carbide is always a better choice for long term performance.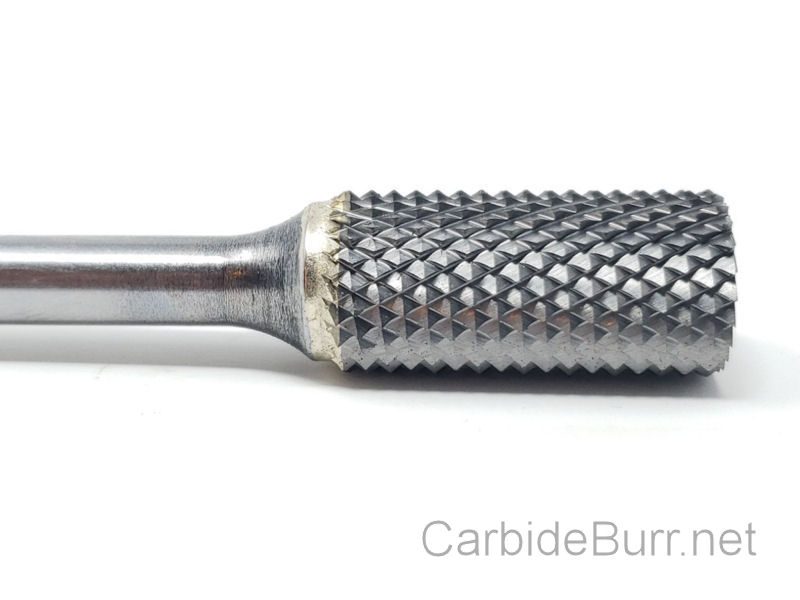 SA-1/2 DIAMOND Cut Carbide Burr
The most abrasive carbide tool we make!

Need a longer reach for your carbide tool bits?
Try our 4″ and 9″ long tool extensions on sale today!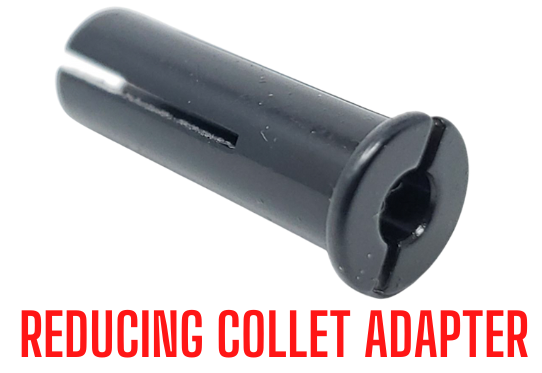 Did you know you can use your 1/8″ Dremel tool bits in your 1/4″ die grinder?
Just use our reducing collet adapter. On sale today!
Click here if you are interested in dropshipping our USA made carbide burr tools.

Follow Us On Social Media for Special Coupons
Facebook – Twitter – Instagram – Youtube
Carbide Burrs on 1/4″ Shanks – Solid Carbide Burrs – 1/4″ Carbide Burrs on 1/8″ Shanks – Long Shank Carbide Burrs – NF Carbide Burrs – Carbide Burr Sets – End Mills – Accessories
Order Tracking – Dropship Carbide Burr Tools – Contact Us – Cut Options – Coupon Codes – Posts