Dentistry
Dentistry is a branch of medicine that is involved in the study, diagnosis, prevention, and treatment of diseases, disorders and conditions of the oral cavity, commonly in the dentition but also the oral mucosa, and of adjacent and related structures and tissues, particularly in the maxillofacial (jaw and facial) area. Although primarily associated with teeth among the general public, the field of dentistry or dental medicine is not limited to teeth but includes other aspects of the craniofacial complex including the temperomandibular and other supporting structures. The term dentistry comes from odontology (from Ancient Greek ὀδούς (odoús, "tooth")) – the study of the structure, development, and abnormalities of the teeth. Because of their substantial overlap in concept, dentistry is often also understood to subsume the now largely defunct medical specialty of stomatology (the study of the mouth and its disorders and diseases) for which reason the two terms are used interchangeably in certain regions.
Dentistry is important for overall health. Dental treatment is carried out by the dental team, which often consists of a dentist and dental auxiliaries (dental assistants, dental hygienists, dental technicians, and dental therapists). Most dentists work in private practices (primary care), although some work in dental hospitals and hospitals (secondary care) and institutions (prisons, armed forces bases, etc.).
The history of dentistry is almost as ancient as the history of humanity and civilization with the earliest evidence dating from 7000 BC. Remains from the early Harappan periods of the Indus Valley Civilization (c. 3300 BC) show evidence of teeth having been drilled dating back 9,000 years. It is thought that dental surgery was the first specialization from medicine.
Dental treatment
Dentistry usually encompasses very important practices related to the oral cavity. Oral diseases are major public health problems due to their high incidence and prevalence across the globe with the disadvantaged affected more than other socio-economic groups.
The majority of dental treatments are carried out to prevent or treat the two most common oral diseases which are dental caries (tooth decay) and periodontal disease (gum disease or pyorrhea). Common treatments involve the restoration of teeth, extraction or surgical removal of teeth, scaling and root planing and endodontic root canal treatment.
All dentists in the United States undergo at least three years of undergraduate studies, but nearly all complete a bachelor's degree. This schooling is followed by four years of dental school to qualify as a "Doctor of Dental Surgery" (DDS) or "Doctor of Dental Medicine" (DMD). Dentists need to complete additional qualifications or continuing education to carry out more complex treatments such as sedation, oral and maxillofacial surgery, and dental implants.
By nature of their general training they can carry out the majority of dental treatments such as restorative (fillings, crowns, bridges), prosthetic (dentures), endodontic (root canal) therapy, periodontal (gum) therapy, and extraction of teeth, as well as performing examinations, radiographs (x-rays) and diagnosis. Dentists can also prescribe medications such as antibiotics, sedatives, and any other drugs used in patient management.
Dentists also encourage prevention of oral diseases through proper hygiene and regular, twice yearly, checkups for professional cleaning and evaluation. Conditions in the oral cavity may be indicative of systemic diseases such as osteoporosis, diabetes, or cancer. Many studies have also shown that gum disease is associated with an increased risk of diabetes, heart disease, and preterm birth. The concept that oral health can affect systemic health and disease is referred to as "oral-systemic health".
Education and licensing
Dr. John M. Harris started the world's first dental school in Bainbridge, Ohio, and helped to establish dentistry as a health profession. It opened on 21 February 1828, and today is a dental museum. The first dental college, Baltimore College of Dental Surgery, opened in Baltimore, Maryland, USA in 1840. The second in the United States was the Philadelphia College of Dental Surgery, established in 1852. In 1907, Temple University accepted a bid to incorporate the school.
Studies showed that dentists graduated from different countries, or even from different dental schools in one country, may have different clinical decisions for the same clinical condition. For example, dentists graduated from Israeli dental schools may recommend more often for the removal of asymptomatic impacted third molar (wisdom teeth) than dentists graduated from Latin American or Eastern European dental schools.
In the United Kingdom, the 1878 British Dentists Act and 1879 Dentists Register limited the title of "dentist" and "dental surgeon" to qualified and registered practitioners. However, others could legally describe themselves as "dental experts" or "dental consultants". The practice of dentistry in the United Kingdom became fully regulated with the 1921 Dentists Act, which required the registration of anyone practising dentistry. The British Dental Association, formed in 1880 with Sir John Tomes as president, played a major role in prosecuting dentists practising illegally.
In Korea, Taiwan, Japan, Finland, Sweden, Brazil, Chile, the United States, and Canada, a dentist is a healthcare professional qualified to practice dentistry after graduating with a degree of either Doctor of Dental Surgery (DDS) or Doctor of Dental Medicine (DMD). This is equivalent to the Bachelor of Dental Surgery/Baccalaureus Dentalis Chirurgiae (BDS, BDent, BChD, BDSc) that is awarded in the UK and British Commonwealth countries. In most western countries, to become a qualified dentist one must usually complete at least four years of postgraduate study; within the European Union the education has to be at least five years. Dentists usually complete between five and eight years of post-secondary education before practising. Though not mandatory, many dentists choose to complete an internship or residency focusing on specific aspects of dental care after they have received their dental degree.
Specialties
Some dentists undertake further training after their initial degree in order to specialize. Exactly which subjects are recognized by dental registration bodies varies according to location. Examples include:
Dental public health – The study of epidemiology and social health policies relevant to oral health
Conservative dentistry and endodontics: The art and science of restoring the tooth form and function when destructed by carious and non carious lesions affecting the teeth, before involvement of pulp or root canal is termed as conservative dentistry. When the root canal are involved, the speciality is known as endodontics. This speciality degree is awarded in India
Endodontics (also called endodontology) – Root canal therapy and study of diseases of the dental pulp and periapical tissues.
Forensic odontology – The gathering and use of dental evidence in law. This may be performed by any dentist with experience or training in this field. The function of the forensic dentist is primarily documentation and verification of identity.
Geriatric dentistry or Geriodontics – The delivery of dental care to older adults involving the diagnosis, prevention, and treatment of problems associated with normal aging and age-related diseases as part of an interdisciplinary team with other health care professionals.
Oral and maxillofacial pathology – The study, diagnosis, and sometimes the treatment of oral and maxillofacial related diseases.
Oral and maxillofacial radiology – The study and radiologic interpretation of oral and maxillofacial diseases.
Oral and maxillofacial surgery (also called oral surgery) – Extractions, implants, and surgery of the jaws, mouth and face.
Oral biology – Research in dental and craniofacial biology
Oral Implantology – The art and science of replacing extracted teeth with dental implants.
Oral medicine – The clinical evaluation and diagnosis of oral mucosal diseases
Orthodontics and dentofacial orthopedics – The straightening of teeth and modification of midface and mandibular growth.
Pediatric dentistry (also called pedodontics) – Dentistry for children
Periodontology (also called periodontics) – The study and treatment of diseases of the periodontium (non-surgical and surgical) as well as placement and maintenance of dental implants
Prosthodontics (also called prosthetic dentistry) – Dentures, bridges and the restoration of implants. Some prosthodontists further their training in "oral and maxillofacial prosthodontics", which is the discipline concerned with the replacement of missing facial structures, such as ears, eyes, noses, etc.
Special needs dentistry (also called special care dentistry) – Dentistry for those with developmental and acquired disabilities.
Veterinary dentistry, a speciality of veterinary medicine – The field of dentistry applied to the care of animals.
Uses for Carbide Burrs
Use carbide burrs in air tools such as die grinders, pneumatic rotary tools and high speed engravers. Micro Motors, Pendant Drills, Flexible Shafts, and hobby rotary tools such as a Dremel.
Carbide burrs are widely used for metalworking, tool making, engineering, model engineering, wood carving, jewelry making, welding, chamferring, casting, deburring, grinding, cylinder head porting and sculpting. Carbide burrs are used in the aerospace, automotive, dentistry, stone and metalsmith industries.
What cut should you choose?
Single cut (one flute) carbide burrs have a right handed (up cut) spiral flute. Single cut is used with stainless steel, hardened steel, copper, cast iron and ferrous metals and will remove material quickly with a smooth finish. Use for heavy stock removal, milling, deburring and cleaning.
Heavy removal of material
Milling
Deburring
Cleaning
Creates long chips
Use double cut carbide burrs on ferrous and non ferrous metals, aluminium, soft steel and also for all non-metal materials such as stone, plastics, hard wood and ceramic. This cut has more cutting edges and will remove material faster. Double cut also called Diamond Cut or Cross Cut (2 flutes cut across each other) and will leave a smoother finish than single cut due to producing smaller chips as they cut away the material. Use double cut for medium-light stock removal, deburring, finishing and cleaning. Double cut carbide burrs are most popular and work for most applications.
Medium- light removal of material
Deburring
Fine finishing
Cleaning
Smooth finish
Creates small chips
What RPM speed should you use?
The speed at which you use your carbide burr in your rotary tool will depend on the material you're using it on and the contour being produced but it's safe to say you do not need more than 35,000 RPM. If the burs are chipping easily this could be due to the speed being too slow. It's ideal to start the bur off slow, increasing the speed as you go along. High speeds will prevent clogging in the flutes of your carbide burs.
As with all drill bits and burrs, let the burr do the work and apply only a little pressure, otherwise the cutting edges of the flutes will chip away or become smooth too quickly, reducing the life of your burr.
Our carbide burrs we manufacture are machine ground from a specially chosen grade of carbide. Due to the extreme hardness of the tungsten carbide, they can be used on much more demanding jobs than HSS (High Speed Steel). Carbide Burrs also perform better at higher temperatures than HSS, so you can run them hotter, and for longer. HSS burrs will start to soften at higher temperatures, so carbide is always a better choice for long term performance.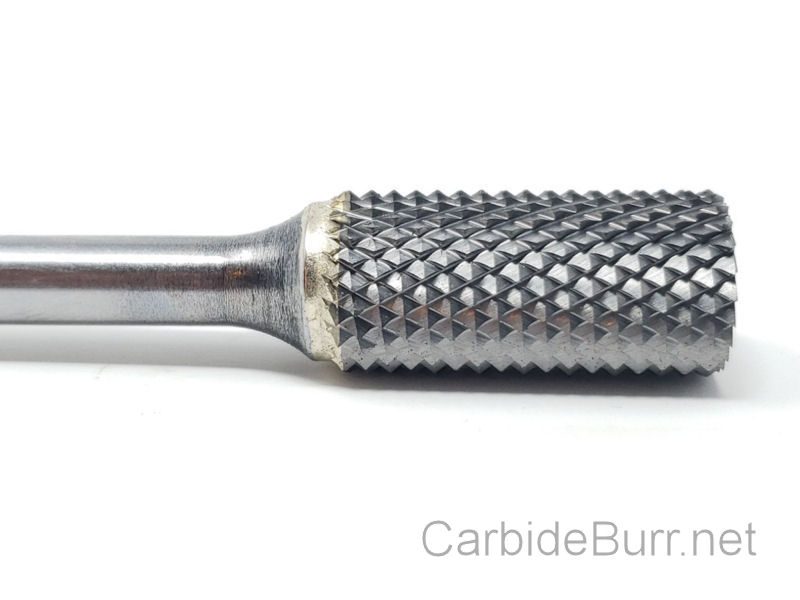 SA-1/2 DIAMOND Cut Carbide Burr
The most abrasive carbide tool we make!

Need a longer reach for your carbide tool bits?
Try our 4″ and 9″ long tool extensions on sale today!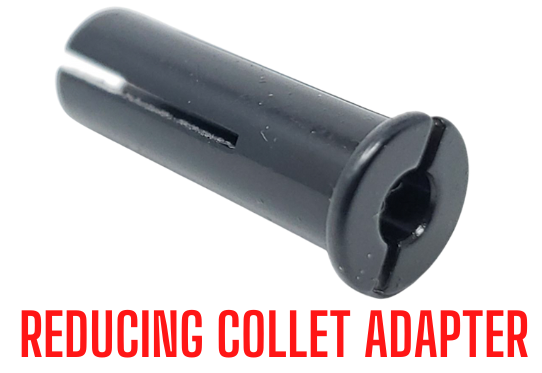 Did you know you can use your 1/8″ Dremel tool bits in your 1/4″ die grinder?
Just use our reducing collet adapter. On sale today!
Click here if you are interested in dropshipping our USA made carbide burr tools.

Follow Us On Social Media for Special Coupons
Facebook – Twitter – Instagram – Youtube
Carbide Burrs on 1/4″ Shanks – Solid Carbide Burrs – 1/4″ Carbide Burrs on 1/8″ Shanks – Long Shank Carbide Burrs – NF Carbide Burrs – Carbide Burr Sets – End Mills – Accessories
Order Tracking – Dropship Carbide Burr Tools – Contact Us – Cut Options – Coupon Codes – Posts